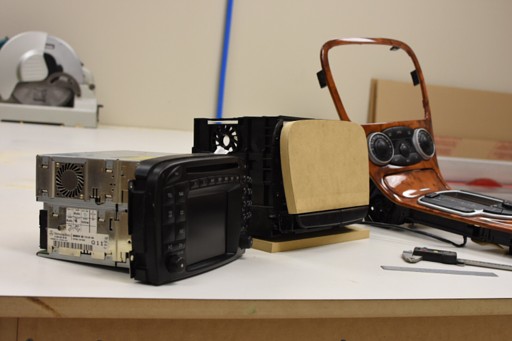 As you can see, the stock radio has curves on multiple axis. This presents a challenge in building a kit that will look like it belongs there.
We used some new techniques to make this kit solely from acrylic. We wanted to make this happen because the Texas heat tends to effect different materials disproportionately. Having the entire piece from one material makes it long lasting and durable structurally and cosmetically!
With the radio and dash bezel removed, you can see what we have to work with.
David made a template of the opening with flat MDF to get the shape of the bezel correct. Oftentimes he will mock up a version of the piece from MDF and test before making the final piece from acrylic.
Using cutting edge 3D routering techniques, the profile curves of the piece are created. The aluminum backing is to securely mount the kit to the vehicle.
Here is a look at the mounting hardware. A lot of fabricators will miss this very important step, but not David. The guy's always thinking.
You can see, after some sanding and painting, how the new assembly emulates the OEM piece. The cup holders are retained and the vehicle upgraded! We also installed an Audison AP8.9bit amplifier/processor combo running on the stock speakers. This way we have ultimate control over the sound.
If you have a vehicle you want to upgrade and it seems there are no options, we're here for you!
2003 Mercedes SL55 custom dash kit
​What do you do when you love your vehicle, it performs perfectly and looks great but the technology is out dated? Call us! We updated this 2003 SL55 with a Pioneer AVH-4200NEX to add Bluetooth, DVD and CarPlay functionality. With no aftermarket dash kit available, we had to build one from scratch.
Here is the build log for this OEM looking dash kit!